Episodes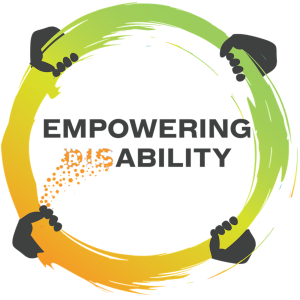 Tuesday Apr 10, 2018
Tuesday Apr 10, 2018
Welcome to Episode #042 of the Empowering Ability Podcast/ Blog. Today's episode is about 'Understanding the Sibling Experience, with Helen Ries.' Before we get into the content of this episode, first some housekeeping because it has been awhile since you have heard from me.
Almost 4 months in fact.
In December 2017, I shared with you that the podcast would be taking a break for a couple of months so that I could develop new content and complete a few projects. However, life got busier than expected; with helping to run my family's business, finishing the construction of my new house, supporting my sister to move out of my parent's house, running my coaching practice for leaders and families working to create incredible ordinary lives for people with disabilities, and working on the adult sibling research we are going to share with you today.
Something had to give, and it was the podcast - even though I love podcasting. To give you an idea, publishing a 1- hour episode is about 10 hours of work, as I do all the recording, editing, writing, graphics, and publishing myself. So, moving forward I will be releasing an episode every 2 weeks, which is a much more manageable pace than weekly, also considering this podcast is currently free. I am a considering a 'pay what you can model' for those of you that are getting a ton of value from this podcast and wish to contribute to the production of the podcasts and the costs associated with it. I want this information to remain open and widely available to everyone, and this type of model will enable that. With all of that said, I have still been recording content over the last 4 months and I have some incredible conversations that I will be bringing to you over the next couple of months.
I'd love to hear from some of you to learn what has really resonated with you over the first 42 episodes. This will help me as I craft new content to bring you more of what you find valuable. Also, send me the names of guests you would love to hear on the podcast.
You can send me an email at eric@ericgoll.com.
Okay, enough housekeeping.
Today, my guest today is Helen Ries. Helen is a sibling, who supports her brother Paul, and they live together in Ottawa, Ontario. Helen also joined me on episode 9, which you can listen to here, where she talks in depth about her experience as a sibling and shares her insights. Helen is also an evaluator and consultant in the not-for-profit sector with an interest in social justice and poverty reduction, you can check out her work on her website.
Helen and I, discuss the research we have been doing to understand the life experience of adult siblings. The purpose of this research is to understand siblings so that we can better support adult siblings with resources, some of which we intend to create.
There were actually three of us completing this research, the third person being Becky Rossi. Becky just became the mother to her 3rd child, and wasn't able to join us on the podcast – but here is a brief overview of our stories:
Helen's Story:
All her life Helen knew that one day she would be responsible for her brother's care. When that day arrived, it was early, unexpected and fast. The shock of suddenly becoming a caregiver still runs through her. There are moments when she remembers a time when she could go away for the weekend without planning it or when she didn't have the nag of constant worry. It has been so far a difficult journey, but she is very proud of how her brother has thrived with her care and how their relationship has grown.
Becky's Story:
Becky has spent the last seven years championing broad systems change through building community-based, non-traditional solutions to issues of isolation and vulnerability, both through her long-time work with P4P and as the sibling of an adult brother with Asperger's Syndrome. Becky has a close relationship with her brother and – together with her sister and parents – they navigate the challenges and opportunities of creating a meaningful life, secure future and strong family.
Eric's Story:
Sitting from his work desk Eric received a call from his distressed mother exclaiming "I just can't do it anymore". She was referring to caring for his sister, with a DD, 31 years old at the time. Eric had a decision to make – continue to stay arm's length from his family, or jump in and play the role of a loving brother and loving son that he knew he could be. This started Eric's journey in supporting families with a loved one with a DD (including his own), through personal coaching and educating.
So, this is a big lead up to what we have learned, here it is….
The Sibling Life Journey
We looked at the common themes in the life of a sibling over the stages of a sibling's life. These themes might not apply to every sibling's life, but these are our observations from conversation with many adult siblings, and they line up well with the data we collected in a survey with over 360 adult sibling respondents.
0 years-18 years old: At a young age we get an understanding of disability, and we notice differences between ourselves and our sibling. Our parents are taking our brother or sister to many appointments and are often providing much more care to our brother or sister than they are for us. We are often asked to help out, and many of us just jump in wanting to help. This leads to siblings maturing faster than normal and developing a strong sense for caring for others at an early age. We also become our brother or sister's protector. No one is going to mess with our brother or sister at school, or out in public without hearing about it from us. The maturity, carer, and protector are traits and values that we often carry with us throughout our lives.
18 years – 29 years old: At 18 typically siblings move out and go through a big growth and exploration phase. We get an advanced education, or head out into the working world, we try many jobs to see what we like, we travel. And our brother or sister, from age 21 on, is often living at our parents' home with little to do and is actually in decline in terms of growth. During this time in a sibling's life they will often describe having a feeling of guilt, as they are experiencing what life has to offer, and their brother or sister isn't having the same opportunity. Siblings want their brother or sister to have the same life opportunities, but they don't know how to support them to do so.
30 years – 39 years old: This stage of a sibling's life is typically focused on career building and starting a family of their own. These things take a lot of energy and can mean a little less connection with our brother or sister and parents. This feeling of guilt can continue. We want better for our brother or sister but not really knowing how to help and use our influence. Siblings are often pushed out of the conversation my parents about their brother or sister because parents don't want that 'burden' to be passed onto the other sibling.
40 years – 49 years old: Siblings have described having a 'looming' feeling in this life stage. More often than not, their brother or sister with a disability is still living with their parents, and the parent's health is starting to decline due to age. Siblings can see this impending crisis coming, whether it is conscious or unconscious - it is keeping them up at night. What is going to happen when my parents can't support my brother and sister? It is on me.
50+ years old: The parents decline to a point where they cannot provide care for their child with a disability, and someone else needs to take over that role. Many siblings step up to fill the role, all while dealing with their parents decline, their career, and their family. This can be a very challenging time period in a sibling's life.
The Survey Findings:
There are 7 key findings that we share in the 'Understanding the Sibling Experience' report, here is a small glimpse into a couple of the findings that Helen and I discuss on the podcast. I recommend you check out the report, hosted by Partners For Planning (P4P), if you are interested in reading about all of the findings.
The Findings:
Where are our brothers and sisters with a disability living? Well it turns out that 85.6% of our brothers and sisters aged 20 to 29 years old are living with their parents. In comparison, the Canadian national average is 34.7% for people aged 20-29 years old. The percentage of people with disabilities living with their parents stays high well into the 40-49 year old age bracket, at 58.5%.
What are the current challenges identified by siblings? Siblings identified the mental health of their brother or sister and the mental health of their parents as the most frequent challenge they face. Followed by hosing options for their brother or sister, managing relationships, and emotional supports for themselves.
If you are interested in the other 5 findings, check out the report here.
Our Recommendations:
In our report, we outline 8 recommendations for siblings, families, organizations, and government to consider.
These recommendations include:
A deeper study of siblings

Adult siblings connect with other adult siblings to share their experiences

Development of resources and tools for adult siblings

Support for mental health of our families

Innovative housing solutions

Poverty reduction

Siblings are involved in the family planning discussions

Organizations reach out to siblings and support them.
I encourage you to read our report to learn more about these recommendations in depth, click here.
The Sibling Collaborative:
So, what is next for us? (Helen, Becky, and I)
We have done a lot of thinking about what we have learned about siblings and we have created a new project, called 'The Sibling Collaborative' to support siblings needs.
The purpose of the Sibling Collaborative is to 'Connect Siblings and Strengthen Families'.
The Sibling Collaborative has a core set of values that guides our work:
Realizing Change with Compassion: We take action with the critical input and consideration of our brothers and sisters with a DD and our families.
Mutual Respect: We give people agency over their own lives, with consideration for all those involved.
Collective Solutions: We find a way forward by learning, working and co-creating together.
Unlocking Potential: We hold a big and bold vision for our brothers and sisters as well as our families. Our intrinsic creativity and resourcefulness knows no limit.
For this collaborative to be a collaborative we need others to collaborate with! We would love other siblings, self-advocates, family members, and organizations that share these values to partner with us on this journey. You can join the sibling collective mailing list here, to be updated on the journey as it unfolds.
Helen leaves us with a quote from friend to all siblings, Don Meyer, "If you want to invest in the long-term well-being of people with developmental disabilities, you need to invest in their brothers and sisters."
Thank you for reading to today's blog! If you liked this episode, and think someone you know would benefit, please share it with them! Be a part of the change to think differently about disability.
Love & Respect,
Eric Goll
Resources:
The Sibling Collaborative Facebook Page: Click Here: Sibling Network
Join The Sibling Collaborative Mailing List: Click Here
Email: info@siblingcollaborative.org
Understanding the Sibling Experience Report: Click Here
If you received value from this content please leave me a review on iTunes. By leaving a 5 star review on iTunes you make the Empowering Ability Podcast more discoverable, and more families will benefit. Click Here To Leave a Review on iTunes
The Empowering Ability Podcast is available on iTunes and various other apps so that you can listen while on the go from your smartphone!
Click Here To Listen on iTunes
The Sibling Collaborative