Episodes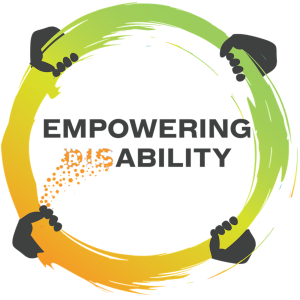 Monday Nov 12, 2018
Monday Nov 12, 2018
Joe Dale and I explore the untapped labour pool of people with disabilities, uncover the benefits of employing people with disabilities, and discuss approaches people with disabilities can take to gain employment.
Today businesses are asking, 'Where do we find good people?', and people with disabilities are asking 'Where do I get a job?'. This podcast/ blog with Joe Dale, Executive Director of the Ontario Disability Employment Network (ODEN), explores these questions.
Joe has worked in the field of disability for over 35 years and spent much of that time addressing issues related to employment for people with disabilities. He is an internationally renowned speaker, speaking to business, governments, and not-for-profits on the issue of strategic engagement of people with disabilities in the workforce.
The Ontario Disability Employment Network (ODEN)
ODEN is a professional body of employment service providers united to increase employment opportunities for people who have a disability. They have over 110-member agencies, all in the business of helping people with a disability get into the workforce.
ODEN focuses on 4 core areas:
Engaging and educating businesses on hiring people with a disability. They also support businesses to develop successful hiring practices.

Supporting disability employment agencies with training that builds their capacities and skills.

Advocating on employment for people with a disability to the provincial and federal governments.

Engaging and educating other stakeholders that prepare people with disabilities for the workforce, including school boards and family groups.
The Employment Landscape
Paraphrasing from the podcast, Joe shares:
"There are a lot of barriers for people with disability to enter the workforce. However, there has been a drastic change in the last couple of years. Businesses are now moving from awareness of the benefits people with a disability can provide to their business, to how do we employ people with disabilities. And, thinking about what does it look like in our workplace?
We have done a lot of awareness over the last 10 years and this is starting to pay off. Businesses are also challenged with the labour shortages, so businesses are now looking at what was once considered non-traditional labour sources."
Currently the unemployment rate is 5.5% in Canada, but what does that look like for people with disabilities?
Paraphrasing from the podcast, Joe shares:
"Statistics Canada reported that 49% of people with disability are not in labour market. This doesn't include people who have never had a job or have given up on trying to find a job. For the 51% of people in the labour market, we are seeing anywhere between 16 – 25% employment rate. From this, we can assume people with a disability that are not working in Canada is around 70%.
In the US, they do their research differently, they show about 18% of people with a disability are working."
What Do Businesses Need to Know About Disability?
Paraphrasing from the podcast, Joe shares:
"Businesses don't know what they don't know. Businesses aren't fully aware of disability as a demographic. We try to illustrate what disability looks like in their community.
16% of Canadians identify that they have a disability across Canada. This is a very large demographic. If you add family and loved ones of those people, 53% of Canadian's are impacted by disability. These people have a very strong connection to disability.
What would this look like in your place of business? We do this through case studies and by breaking down the myths and stereotypes.. 
We are shifting mindsets away from charity and pity, a mindset of contribution. This is what businesses need to see to get them to buy in and employ people with a disability in a sustainable way."
Learn can learn more about the Myths to employing people with a disability in this podcast/ blog with Laura McKeen. 
What is the business case to employ people with a disability?
Paraphrasing from the podcast, Joe Shares the following case studies:
Case Study 1: Walgreens
Walgreens is a large pharmacy retailer in the United States that has inclusive hiring practices. In 2006, they opened a new distribution center in South Carolina. When staffing this distribution centre they started with the goal of staffing 1/3 of this workforce with people that have a disability. In the end, they hired 40% of their workforce with people that have a disability. At the end of the first year, this distribution centre was the most productive centre for all of Walgreens in the US.
A year later they opened a distribution centre in Connecticut and they went in with the same mindset and hired 45% of people with disability. It opened in 2007 and has had the highest production of all Walgreens distribution centers every year since it opened. They have a 63% reduction in employee costs! Lower absenteeism, lower turnover, and fewer workplace accidents. What they are seeing is higher productivity at lower cost. This equates to profits.
More on the Walgreens Case Study. Click Here
Case Study 2: Mark Wafer, Tim Hortons
Mark Wafer owed 6 Tim Horton's coffee shops in the Greater Toronto Area, in Ontario Canada. 15% -20% of their staff was people who had a disability. Employees with disabilities had an 87% higher attendance rating, and no work injury claims. Mark's coffee shops had a turnover of 38% in an industry where the average was 110%. At $4,000 per new hire, there was a significant reduction in costs. His employees with a disability had almost 0% turn over, and employees without disabilities had a 55% turn over, which was still half of the industry average. He put it down for employees being engaged because he is an inclusive employer.
These costs savings are often offsetting the costs of a little bit slower production or the cost of accommodations.
Additionally, prior to Mark selling his business, his coffee shops ranked #1, #2, #3, #4, #5, and #6 in key sales/ profitability indicators among 500 Tim Hortons coffee shops in Central Ontario.
More on Tim Hortons Case Study. Click Here
Additionally, Joe shares:
"Many businesses are contacting ODEN today to learn about how to employ people with disabilities. We would like to get to 16 -20% of employees in a workplace be people with a disability.
We also see the growth rate for people with a disability that get into the workplace their growth rate is phenomenal. Within 2 or 3 weeks they can become a different person and can exceed expectations. This is due to the opportunity, environment, and role modelling."
How can families and agencies help people with disabilities to gain employment?
Paraphrasing from the podcast, Joe shares:
"It's really about raising expectations. Overall our expectations of people with a disability are too low. We need to identify the goal that we have for people that have a disability. If the goal is for the person with the disability to have a job, we need to create a different path. We need to change the educational system to support this goal.
For families, if employment is a goal what happens at home has to change. We need to ask questions like, 'What do you want to be when you grow up?' and we need to ask 'Do we give them chores?'. We need to raise expectations, have high goals, and change the path to support these goals."
I agree with Joe, we need to think bigger and get out of the disability box. This requires a switch from deficits thinking to contribution thinking, and we need to be a champion for that individual. Once you have people holding low expectations of you, you live up to those low expectations. We live up to expectations, so hold high expectations and be a champion for people with disabilities by upholding their dreams and influencing others to do the same.
Joe shares:
"There is research out of the US that shows the indicators of labour market attachment for people with severe disabilities are:
A single paid job while in high school

Family members and others around that have high expectations
This leads to asking the question, 'How do we mirror the experiences for people with disabilities the same as those around them?' Peers and siblings. This includes responsibilities, chores, and part-time jobs. This helps the person to also learn what they like, what they don't like."
Learned Helplessness
What I have observed in my work is that parents and supporters are trying to be helpful by doing things for the person with a disability, but by doing this it creates dependencies. It teaches the person with the disability that they can't do things. Now when that person with a disability is asked to do something they have learned that they 'can't' do the task, even when they are in a new environment. In positive psychology, this behavior is called Learned Helplessness. However, this can be changed with learned optimism. By the way, my family has been caught in the learned helplessness trap. I am not judging here, simply pointing out my observations.
Work or Activities?
Paraphrasing from the podcast, Joe shares:
"It is a challenge when activities, like bowling or swimming, get in the way of the work opportunity. Generally, we don't do these things instead of work. This is a values proposition that needs to be considered by families. The more conditions we place on work, the more difficult engaging in work becomes."
Insight: Put the job first, remove the conditions on the employment.
What suggestions do you have for people with disabilities that are 25 to 45 years old, and have never been in the job market?
Joe shares:
"It might mean backing up a bit and starting with a part-time job that many of us would have had while in school. Such as at McDonald's. But don't let the progress start there. We need to start creating that path.
The more experiences a person has had the better their decision making becomes on what they would like to do 1 to 2 years from now or even tomorrow."
Fair Pay for People with Disabilities
Joe shares:
"Working for free, or saying the person doesn't need equal pay is a very bad attitude. Society values people that work, pay taxes and contribute, and much more so than people that live off the tax system. To see someone contributing to the tax system in your community brings value to that person.
It is important for peers and supervisors to see that person as valuable. If two people are working side by side and one person is getting paid full wage, and the other person is receiving less than full wage, it tells the rest of the world that that person is not as valuable as the person making full wage beside them. That is a real damaging long-term scenario. The perception is that the person with a disability as being seen as valued is critical. I fight against anything that looks like less than a fair wage. If the perception is that the person is less valuable, who is the person that is going to be let go in an economic downturn? The person that is seen as less valued.
Also, It is a myth that by working the person will earn less money with the Ontario Disability Support Program (ODSP). No matter what the person earns they will always have more money in their pocket at the end of the day. They never lose never money by working. It is a fallacy that people will have less money if they work."
I agree with Joe's perspective on fair wage. Additionally, consider the person with a disability that is receiving less than an equal wage. If that person is perceived by others as not valued, then they will not feel valued themselves. If I am not feeling valued I am not going to be excited about going to work.
If you received value from reading this blog or listening to this podcast episode I encourage you to share it with someone else you feel would benefit.
You can also support this work by subscribing. This podcast and blog is supported completely by listeners and readers like you. Thank you to those that have supported by subscribing!
Love & Respect,
Eric Goll
Resources:
ODEN Website: Odenetwork.com
Tim Hortons Case Study: Click Here
Walgreens Case Study: Click Here
If you received value from this content please leave me a review on iTunes. By leaving a 5 star review on iTunes you make the Empowering Ability Podcast more discoverable, and more families will benefit. Click Here To Leave a Review on iTunes
The Empowering Ability Podcast is available on iTunes and various other apps so that you can listen while on the go from your smartphone!